OmniFoods has launched its 100% plant-based pork-style proteins, OmniMeat, into Woolworths and select grocers across Australia.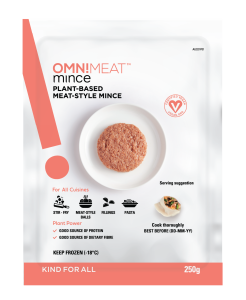 The OmniMeat range includes three new plant-based pork alternatives:
The range is made using a blend of plant-based protein from non-GMO soy, pea, shiitake mushrooms and rice. All products are claimed to be cruelty-free, vegan friendly, and free of antibiotics and hormones.
"After the successful launch in the US and UK, we are thrilled to announce that OmniFoods is officially arriving in Woolworths, Australia," says David Yeung, founder and CEO of OmniFoods and Green Monday Group.
"We believe we are bringing a whole new dimension of plant-based offerings that will accelerate the movement. Can't wait to see the mouth-watering recipes and creations from our Aussie friends."
The OmniMeat Mince and OmniMeat Luncheon will be available in-store and online at Woolworths. Miracle Supermarkets, Tong Li Supermarket, Vegan Grocery Store and Asian Food Store will also stock the OmniMeat Strips.
The "versatile" OmniMeat series can be "easily" seasoned, steamed, pan- or deep-fried, stuffed, or crumbled to create a vegan alternative to everyday Aussie favourite meals such as burgers, pasta sauces, dumplings and more.