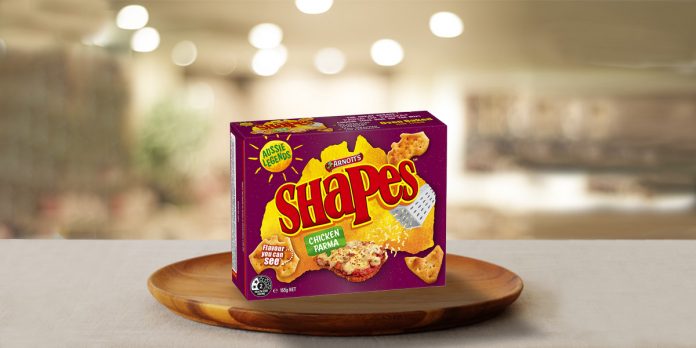 A solution to the pub cravings perhaps?
Arnott's releases a new flavour in their Shapes Aussie Legends range; Chicken Parmigiana.
"We know Aussies are a nation of pub lovers and it's been tough not being able to enjoy our favourite pub feeds as often as we'd like the past few months," says Arnott's Marketing Manager of Savoury, Shannon Wright.
"So, we decided to expand our Shapes Aussie Legends range with another one of the tastes Australians love."
The team at Arnott's describes the flavour as blending tastes of the classic ingredients of a Chicken Parmigiana, with mild parmesan cheese, a rich tomato and garlic sauce, topped with Italian herbs on a crispy chicken schnitzel, all united into one biscuit.
While many people will be excited to try out this new flavour – there is one hot question that is circulating, around the new Chicken Parmigiana biscuit.
Is it a Parmi or a Parma?
Arnott's commissioned consumer research that uncovered some interesting points about how Aussies feel about the beloved pub dish.
Parmi/Parmy – 45%
Parma – 34%
Other – 21%
Other interesting facts include:
45% of Australians are spelling Chicken Parmigiana wrong, with a further 11% admitting they have no clue where to even start when spelling it out.
The alternative ways of spelling the dish include:
Chicken Parmigana – 17%
Chicken Parmegiana – 8%
Chicken Parmegana – 4%
Chicken Parmajana – 4%
Nearly a quarter of Aussies (24%) eat at least two Chicken Parmigiana's per month, and 26% of Victorians say a Chicken Parmigiana will be the first meal they eat when the state comes out of lockdown – which is honestly fair!