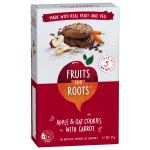 Arnott's is launching Fruits & Roots cookies, a new range of delicious cookies, made with real fruit and vegetables.
The company says the Fruits & Roots range has the "perfect pairing of real fruits and vegetables in each cookie variety to balance flavour and nutrition".
The cookies are individually packaged in two-packs for convenience and portability. Arnott's says it wants them to be "handy whenever the morning or afternoon snack moment hits".
Three of the best
Fruits & Roots cookies come in three flavours:
Apple and Oat, with Carrot
Apricot and Coconut, with Sweet Potato
Choc and Berry, with Beetroot.
Arnott's Marketing Director, Snacks Innovation, Sarah Ryan said: "Australians love to snack. But they're increasingly looking for snacks that deliver on more than just satiety.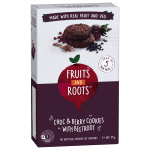 "They want snacks that taste great, they can feel good about, and contribute to their daily fruit and vegetable intake.
"Fruits and Roots cookies made by Arnott's are a fantastic way to incorporate real fruit and veg into your day. But in a deliciously unexpected way!"
Fruits & Roots cookies are now available in all Coles and independent supermarkets.
Contents per box
10 cookies (5 twin-pack sleeves)
175g
RRP: $5.99.