Perfection Fresh, a name synonymous with premium fresh produce, this month proudly commemorates 45 years of growth, innovation, and commitment to quality in the fresh produce industry.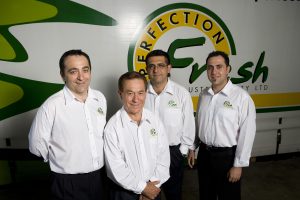 From its modest beginnings in 1978, Perfection Fresh has evolved into a thriving business that embodies a profound passion for fresh produce, strong connections with employees and growers, strategic customer partnerships, sustainable practices, and a relentless pursuit of innovation.
Founded by Antonio (Tony) Simonetta, Perfection Fresh's journey began with a fundamental commitment to build trust and reliability within the market, initially trading in predominantly lettuce, cauliflower and broccoli.
CEO Michael Simonetta says, "My father would be immensely proud to see how our business has thrived over the years, furthering the legacy he laid down. He would be honoured that we're still working with some of the same families we began this journey with many years ago."
The visionary leadership of current CEO Mr Simonetta, who joined the business in 1984 in sales, ignited a transformative phase for the company. Recognising the demand for choice and inspired by international markets, Mr Simonetta sought a broader range of produce varieties. This bold move led to the introduction of the iconic Broccolini® in 1999, a product that resonated with Australian consumers and set Perfection Fresh on the path of marketing proprietary products with trademarked varieties, setting them apart in the industry.
Chief Marketing and Innovation Officer Luke Gibson says, "Innovation is at the heart of the business and has been right from the start. Delivering solutions and new ideas is in our DNA." This unwavering commitment to innovation has enabled Perfection Fresh to meet the ever-evolving demands of the market.
Throughout its 45-year journey, Perfection Fresh has been a pioneering force in the Australian fresh produce industry, introducing meaningful and impactful changes. Some highlights include:
In the early-1990s, Perfection Fresh became the first to introduce vacuum cooling of field-grown lettuce in Gatton and Werribee, resulting in superior product quality and extended shelf life.
Perfection Fresh pioneered the branding of fresh produce, starting with the introduction of Broccolini® in 1999. Today, the company boasts a market-leading portfolio of proprietary branded products.
In 2001, Perfection Fresh was the first to introduce grape tomatoes in Australia, revolutionising the tomato category. The product was called 'The Original Grape Tomato'.
During the early 2000s, the company introduced flow-wrapped truss tomatoes to the market, enhancing product quality and shelf life.
Launched this month, Perfection Fresh continues to lead the industry with its recent introduction of the New Air Fryer Vege range. Giving the ~62% of Australian households that own and use an air fryer (or more an oven) even greater inspiration to include fresh produce at mealtimes. Consumers say, they want to eat more fresh veggies, but they avoid convenience veg offers because they don't look appetising.
While Perfection Fresh continues to expand its product offerings and invest in sustainable practices, one constant has remained – its people. Mr Simonetta acknowledged that the employees are not just a workforce but an integral part of something greater.
Mr Simonetta expressed deep gratitude for the privilege of working alongside remarkable individuals within the company and its broader network of grower partners, customers, suppliers, and local communities. "It's proven in tenure time. As the business grows, so do all the people in it," he said.
Looking back on this remarkable 45-year journey, it is clear that Perfection Fresh's enduring passion for fresh produce and commitment to the communities it serves remain unwavering. The company's purpose remains unchanged – to make the goodness of fresh fruit and vegetables a bigger and more loved part of everybody's life.