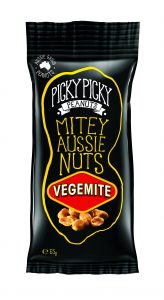 Picky Picky Peanuts has launched a series of "nutty innovations" in Queensland. Among these products is Mitey Aussie Nuts, a collaboration with Vegemite.
Currently available in a selected number of Queensland Woolworths stores, the product combines plant-based protein, peanuts and Vegemite.
In addition to Mitey Aussie Nuts, Picky Picky Peanuts has launched two other products to meet the growing demand: 'In Shell Salted' peanuts in a 300g pack and a 4-pack of the company's Sweet Chilli and Lime flavoured peanuts.
Adam McNamara, Bega Foods General Manager believes the recent purchase by Bega of the Peanut Company of Australia (PCA) (owner of Picky Picky Peanuts) has given the brand licence to grow through innovation.
"Bega is the proud owner of PCA and through that ownership, we believe we can help re-invigorate the Picky Picky Peanuts brand by providing greater opportunity for innovation and brand collaborations," he said.
"Last year, Bega also bought Vegemite and the original 'never oily never dry' Peanut Butter – and we can't wait to see what the future holds."
The full range of newly released Picky Picky varieties will be available in IGA nationally from November.