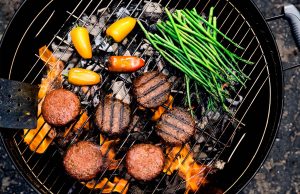 Beyond Meat says it's bringing its "revolutionary plant-based breakthrough to Australian dinner tables" – the Beyond Burger.
According to Beyond Meat, the burger has "all the juicy meat deliciousness of a traditional burger, but comes with all the upsides of a plant-based meal".
The company says Beyond Burger:
Packs 20g of plant-based pea protein
Has no cholesterol, GMOs, soy or gluten
Contains more protein and iron than beef – but with less saturated and total fat.
Beyond Meat says it creates the burger using pea-protein isolate, canola oil, refined coconut oil, cellulose from bamboo and potato starch. It composition, the company claims, delivers "the unique texture of a beef burger", while "trace amounts of beet lend the meaty red colour".
Into the mainstream
Adrian Gastevski is Australian Director of Future Farm Co, the distributor for Beyond Meat in Australia and New Zealand – and a meat eater. He said: "I'm really encouraged by the progress the Beyond Burger brings to the plant-based movement. I look forward to convincing more Aussies to consider a plant-based diet.
"We're aiming to bring plant-based products mainstream. Beyond is an example of this where a majority of its consumers are meat eaters.
"I believe Beyond typifies the direction of plant-based innovation where everyone can benefit from products that finally taste more like those which we are used to, but deliver all the health and environmental benefits of consuming a plant-based diet. Ultimately, it's better for us and better for the environment."
'Sold out in one hour'
Category Manager for BBQ Meat in Coles Supermarkets Harriet Wischer says she's excited to launch Beyond Burger after it proved a hit overseas.
"When launching in select stores in the USA in 2016, the Beyond Burger sold out in one hour. We trialled the product in 15 selected stores across Melbourne earlier this year. In some stores we sold out in hours, in some cases before the stores had even managed to get them onto the shelf.
"Coles is proud to partner with Future FarmCo on the introduction of another innovative and delicious plant-based protein product."
'Clear demand'
Director Romeo's Retail Group and Chairman IGA Committee Joseph Romeo says he's hoping to replicate their success in July, when Beyond Burger sold out in the first two weeks.
"There's a clear demand for plant-based products with our customers," he said.
"We're excited to be among the first to bring the Beyond Burger to our shoppers. As independent retailers, we work with many innovative suppliers to launch new and exciting products
"At IGA, we pride ourselves on knowing and listening to our customers and doing our best to stock our shelves with the products they want. We look forward to continuing to be the retailer of choice for innovative new products."
Where? How much?
The Beyond Burger is currently available at selected IGA supermarkets nationwide and at Coles across NSW. Its RRP is from $11 per pack, which includes two patties. Look in the BBQ meat section.