Prime Minister Anthony Albanese celebrated Darrell Lea's official factory reopening in Ingleburn, NSW on 1 November.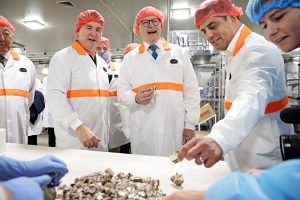 The Prime Minister joined Darrell Lea CEO James Ajaka in a ribbon-cutting ceremony, unveiling a new gifting production line that offers "best in class" manufacturing capability, with the capacity to produce 42,000 gift boxes per day, including the new Darrell Lea Mixed Raspberry Bullets Gift Box.
The iconic Aussie confectionery company recently completed a AU$45 million manufacturing expansion, with the addition of new machinery and expanded factory facilities to fuel its ongoing growth, in preparation for a busy Christmas period.
Among the guests in attendance were George Bagala and Beatriz Cullen, Darrell Lea's long-term employee of fifty years, celebrating the iconic milestone of the company.
For over a decade, the Darrell Lea Ingleburn factory has been a staple in south west Sydney, home to Australia's finest chocolates, freshest liquorice and delicious confectionery, including the iconic Life Savers.
Today, it is the biggest manufacturing site in the world for liquorice, Rocklea Road and Allsorts, producing more than one billion chocolate bullets every year.
From a humble family business to a fabulous Aussie icon, for almost a century, Darrel Lea has been helping generations of Australians create memories and shareable experiences with loved ones. As the company gears up for its 100th birthday milestone in 2027, it will continue to bring together original and authentic craftsmanship to create confectionery better for Australians and across the world.
Darrell Lea CEO James Ajaka says, "It is an absolute honour and privilege to be a part of Darrell Lea, a business that has remained deeply intertwined with the essence of Australian culture. Over the past three years, we've experienced tremendous growth, and I cannot be more thankful for the 1,000 employees who are the heart and soul of our company, contributing their best work across all parts of the business day in day out, to driving Darrell Lea forward both locally and globally."