Quorn has launched a new convenience range of Australian-made frozen ready meals, alongside its "highly anticipated" Crunchy Chicken Fillet Burger.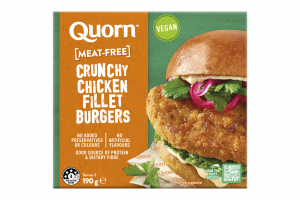 Available in Woolworths, the meat-free frozen meals include the choices of Thai Style Green Curry & Rice, Spaghetti Bolognese and Butter Chicken Style Curry & Rice (RRP $9). The range is promoted as a healthy alternative with a 3–4-star health rating and no added preservatives, colours or flavours. It's also claimed to be a "good" source of protein and dietary fibre.
The Quorn Crunchy Chicken Fillet Burger (RRP $7), with a 4-star health rating, is promoted as delivering a meat-free burger alternative that consumers can enjoy in the comfort of their home.
"Packed full of flavour and crunch, it will convert fans of the classic crunchy chicken burger," adds the brand.
Quorn Senior Brand Manager Jaimie Gardner says the new launches are a testament to Quorn's commitment to the planet and caters to the growing demand for nutritious, convenient ready-made meals.
"We're thrilled to unleash our latest line-up, expanding our range of meat-free meal options so consumers can enjoy more of their favourite dishes, meat-free," says Ms Gardner.
"The demand for convenient and meat-free meals has been growing, so we've responded with these four delicious and healthy additions that bring variety and fun into meat-free eating".
The new Quorn products are now available in the frozen section at Woolworths nationwide. They join the brand's extensive range of meat-free mince, pieces, fillets and nuggets that are already on shelves nationwide.