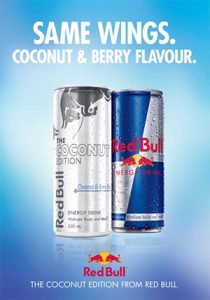 Launched nationally in March 2018, The Coconut Edition from Red Bull is claimed to offer consumers the same functional benefits as Red Bull Energy Drink, with a new taste of coconut with a berry twist.
The Coconut Edition from Red Bull is available in individual 250ml and in a take-home 250ml four pack, and is priced in line with the 250ml Red Bull Energy Drink range (RRP $2.85 single and $10.19 four pack, excluding CDS).
The launch is being supported by strong direct and indirect sampling initiatives to drive trial and awareness, along with a digital-focused awareness campaign and in-store POS.
A spokesperson for the company says Red Bull Editions play an important role in driving both ongoing category engagement and incremental sales.
"Innovation has been identified as the biggest improvement opportunity within energy drinks," the spokesperson said, citing 2017 data from Shopper Tracker. "Around one in two energy-drink shoppers are seeking improvements within innovation as a way of overcoming boredom within the category.
"The Coconut Edition seeks to provide renewed engagement through a coconut flavour, currently a white space within the energy-drinks category."
NPD is a proven spend driver within the energy-drinks category. Previous 'Editions' launches, Red Bull says, have been effective in delivering incremental sales by bringing both new consumers into the category and driving trial among existing consumers seeking new products.