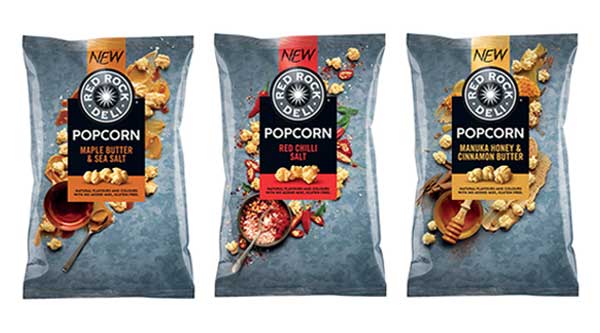 Red Rock Deli is tapping into the growing popcorn trend, introducing "new and exciting flavours" to the market.
The new products are promoted as being "part of a skilfully crafted range of premium sweet and savoury popcorn with the imaginative gourmet flavours consumers have come to expect from the gourmet snack brand".
The popcorn range includes Manuka Honey & Cinnamon Butter, Maple Butter & Sea Salt, and Red Chilli Salt flavours.
The Red Rock Deli Chip Company says this is an exciting first for the Red Rock Deli brand, and with the strong growth of the category, there is an opportunity to "drive even more excitement with a gourmet premium offering".
"We're excited to inject some excitement into popcorn and bring our flavour expertise to the category," Red Rock Deli Brand Manager Lauren Mather said. "We know that consumers are going to love these inspired flavour combinations."
The range is available in 120g and 30g packs.