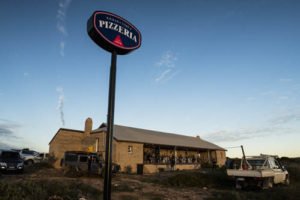 Dr. Oetker Ristorante has created one of the world's most remote pizzerias, on Dirk Hartog Island, Western Australia – close to the most western point of mainland Australia – to prove that any home can have restaurant quality pizza.
In support of its mission to change consumer perception surrounding frozen pizza, Dr. Oetker has launched a marketing campaign, 'Remote Ristorante', which is aimed at bringing new consumers into the frozen pizza category, as penetration into Australian households remains quite low.
The 'Remote Ristorante' campaign involved Dr. Oetker transforming a house into a pizzeria on Dirk Hartog Island – which is home to just five residents – and inviting media and influencers to attend the event.
"We took them on an epic journey by plane, bus and boat to reach the most remote pizzeria and enjoy real Italian pizzeria taste – in the home of Dirk Hartog Island's sole inhabitants," Dr. Oetker Marketing Manager-Frozen Paula Wyatt said. "We captured reactions to the unique journey, pizzeria and, of course, the pizzas, proving that pizzeria taste can be found in your home, thanks to Dr. Oetker Ristorante."
The campaign runs until November and will be promoted across social media, online and print platforms.
Ms Wyatt says retailers should "maximise in-store visibility of Australia's number one frozen pizza brand during the campaign time". Ristorante brand value is $40 million, growing 10 per cent year on year [Nielsen Scan MAT 15/5/16]."