This year's holiday shopping period will be a stress test for retailers, driven by ongoing uncertainties and supercharged consumer demand for frictionless, personalised and connected experiences.
By Salesforce Area Vice President Digital360 Jo Gaines.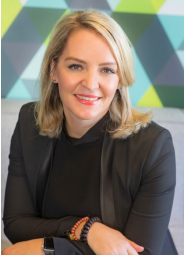 According to Salesforce's latest quarterly Shopping Index, digital revenue increased by 55% last quarter across Australia and New Zealand and it's showing no signs of stopping with consumers cashed up and ready to spend this Christmas.
In the weeks and months ahead, retailers will need to employ new strategies to navigate ongoing change, build meaningful connections, and exceed customer expectations.
Create reasons for customers to shop and stay with your brand
This holiday season we're predicting digital growth to hit record rates of seven per cent globally as shoppers open up their wallets in the lead up to Christmas.
This is against a backdrop of rising supply chain costs due to limited manufacturing capacity, logistics costs, and labour shortages. As a result, shoppers can expect to see a 20% increase in cost for retail items across all categories. As consumers contend with higher prices, retailers need to provide reasons beyond price for shoppers to engage, shop, and return back to them.
Salesforce research found customer loyalty is fast becoming the key differentiator for brands, with incentives like free shipping and simple and/or free returns all increasing their likelihood to buy repeatedly. Beyond earning access to promotions and discounts, shoppers are also interested in rewards for engaging with and promoting a brand. This includes checking into a store, downloading an app or writing an online review.
The Cotton On Group is one example of how brands are effectively using loyalty programs to drive customer retention. It's using Salesforce Marketing Cloud for its Cotton On & Co Perks loyalty program which is enabling staff to better understand their customers and provide them with the products and experiences most relevant to their needs. The result is that Cotton On Group now has the ability to keep customers engaged and shopping with the brand through relevant content.
Centre the store around your digital strategy
In a world influenced by data and e-commerce, it's easy to assume physical stores are a nice to have not a must have. The truth is bricks-and-mortar is more relevant than ever and should complement the digital experience. Physical stores will also play a crucial role in the way online orders are fulfilled this holiday shopping season.
Last year, shipping delays were a common pain point for many, so we expect consumers to be placing larger – but fewer – orders to combat this issue in the run up to the holiday season. As product availability continues to be a concern, customers will be looking to use in-store services such as click and collect to fulfil online orders.
Salesforce research shows more than six in 10 global online orders are predicted to be influenced by bricks-and-mortar locations — either by helping to place an online order or by fulfilling it via click and collect pickup options.
The savviest retailers will establish strategies that blend physical and online channels to engage consumers in the channel of their choice. Super Retail Group, for example, responded quickly to the pandemic and established a contactless click and collect option for Rebel Sports customers. This contributed to a lift in online sales by 176% for April and May in 2020.
While we know the shift to digital shopping experiences will be a mainstay of the retail landscape moving forward, bricks-and-mortar will continue to play a fundamental role in delivering the brand experiences that consumers desire. If retailers are to meet these expectations, they need to create hybrid, seamless and connected experiences across all digital channels and in-person.
Tap into data to drive meaningful connections with customers
When retailers tap into data, it helps to create personalised experiences and build meaningful connections. According to our research, 29% of shoppers are more likely to purchase from a brand or retailer when they offer a tailored customer experience.
Take Amart Furniture as a great example, it ramped up its digital strategy with the launch of a website at the start of the pandemic and staff now have access to valuable insights including customer behaviours and preferences, as well as a better understanding of how people engage with the brand online and offline. By using Salesforce's Einstein artificial intelligence, they are now able to deliver personalised product recommendations and experiences for their customers, driving conversion rates up by 35%.
While the pandemic and lockdowns have presented the ultimate stress test for retailers, taking a digital-first approach (ahead of many other industries) means retailers are building much needed resilience that will help them continue to respond to change, meet evolving customer expectations and ensure growth to manage the holiday shopping surge and beyond.
About Jo Gaines
Jo Gaines has spent over 20 years working for and with technology and media companies. Since 1999, she has worked for various companies and networks, including Krux, CBS, Yahoo, Kidspot, Sensis and Salesforce. In her current role she leads the company's business development and marketing efforts, focused on commerce and marketing solutions.
About Salesforce
Salesforce, the global CRM leader, empowers companies of every size and industry to digitally transform and create a 360-degree view of their customers. For more information about Salesforce (NYSE: CRM), visit: salesforce.com/au.