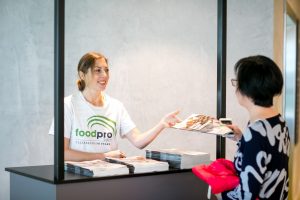 Australia's food and beverage manufacturing event, foodpro, will be held at the Sydney Showground in late July.
Held triennially, foodpro is promoted as reuniting the industry and gathering the nation's food manufacturing and processing decision makers and buyers for four days of collaboration, product launches, new technology and expert education.
Following bushfires and floods, and with the Covid-19 pandemic still causing disruption, what those who will gather at foodpro 2021 do now "really matters", says Event Manager Melissa Clendinen, "not just for our own industry, but the growth of the entire country".
"foodpro is where the industry's brightest minds join forces and generate solutions that will take us towards a more sustainable and safer world," she said.
"foodpro is a great opportunity for all stakeholders within the food and beverage supply chain to unite and learn how we can all work together."
The 2021 event at the Sydney Showground, Sydney Olympic Park, from 25-28 July will include a free speaker series, and foodpro is partnering with leading industry associations including Meat & Livestock Australia, the Australian Institute of Packaging (AIP) and Food Innovation Australia to bring attendees the latest insights and trends from the nation's leading experts.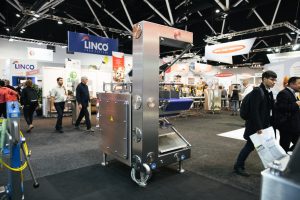 AIP Executive Director Nerida Kelton says the "peak professional body for packaging education and training in Australasia" is pleased to partner with foodpro, which it describes as "the largest trade exhibition in Australia specifically designed for the entire food value chain".
"We look forward to working with the foodpro organisers and developing a unique educational offering for the visitors that covers circular and sustainable packaging design and more," she said.
The full seminar program will be announced soon, but visitors can expect to attend sessions on topics including traceability, food safety, Covid recovery and future food trends.
foodpro is also partnering with the annual convention of the Australian Institute of Food Science and Technology, which will run alongside foodpro 2021, bringing "the latest thinking in food technology and processing".
Major industry sectors covered at the exhibition, plus previews from the foodpro team, include these:
Dairy. "With a focus on running a cost-effective business that operates at maximum efficiency, foodpro lets you stay up to date with processing machinery, packing technology, product testing and lab equipment."
Beverage. "Regardless of what type of beverage you manufacture, it's always important to adapt to changing consumer needs and market pressures."
Meat. "Overcome industry challenges and remain competitive by keeping current – from processing to packing technology and product testing equipment."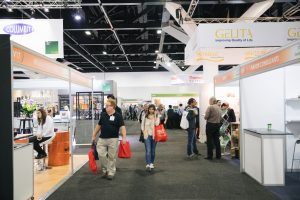 Packaged food. "To remain profitable in an ever-changing market, you need to understand the latest trends in ingredients, as well as keep up to date with new processing and packaging technology."
Bakery and baked goods. "The key for business sustainability and growth is to develop new products and use on-trend ingredients."
Frozen food. "The latest freezing technologies, combined with quality ingredients, texture, appearance and nutrition, are vital for processors of frozen foods."
Fresh food. "Keep your fresh produce business competitive and 'in the green', with the latest technologies, solutions, and information."
Snack food. "See the latest equipment and technologies, and hear the latest knowledge, to stay ahead of the curve."
Registration to attend foodpro 2021 will open in May. Subscribe to the latest event updates at foodproexh.com/subscribe. For exhibitor information, visit foodproexh.com/get-involved/exhibit.