Smith's says it has introduced a new "mouth-watering", limited-edition flavour for its Thinly Cut range – Roast Chicken & Thyme.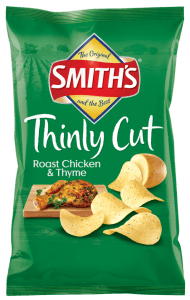 "We're pleased to unveil the latest limited-edition flavour for the Smith's Thinly Cut range," Smith's Brand Manager Alison Silver said. "They make the perfect edition to any social occasion and we can't wait for consumers to try them."
The new flavour will be available from August 6, exclusively in a sharing 175g pack size.
It will be distributed nationally in Woolworths, Coles and independents, RRP $3.29.