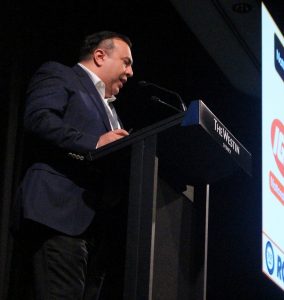 At the Romeo's Conference 2019 last week, the message for suppliers, wholesalers and independent retailers was: let's work together for a sustainable future.
Romeo's Retail Group Company Director Joseph Romeo has likened the relationship between suppliers, wholesaler and retailers to a three-legged stool: without the support of one, everything falls over.
"When wholesalers, retailers and suppliers worth together, our customers win and it gives us sustainability for the future," he said at the group's 2019 conference in Sydney
Working together was a key theme of the conference, which was attended by Romeo's Retail Group suppliers and business partners.
Vittoria Food & Beverage CEO Les Schirato was among the guest speakers. He emphasised the importance of independent retailers to his own business and suppliers generally.
Look to support local manufacturers who have the innovation and design capability to accelerate your production rather than paying inflated international prices for your machinery.
Read More
"Independents like Romeo's have been the vehicle that have helped me build my brands," he said. "They gave me a chance. They were early adopters and some of the first people to accept our new lines, well before anyone else. To me, they keep the industry honest, and the real value of dealing with people like Romeo's is that it's about driving results.
"With Romeo's we get results. They'll do what they say they'll do – something I think is forgotten with a lot of retailers today."
Romeo's 2020 
The theme of the conference was 'Romeo's 2020', which Mr Romeo said was the retail group's blueprint for moving forward.
He spoke of the group's new store strategies, with its newest store, in Adelaide's Rundle Mall, featuring a full café with coffee supplied by Vittoria, a walk-in cheese room and fresh departments supported by plenty of grab-and-go prepared meals.
He also said Romeo's had acquired a site at Australian Technology Park in Sydney, where it plans to introduce its next new-format store. It will have features similar to the Rundle Mall site, including a strong grab-and-go offer, with variations including a "spill-out market feel", a florist positioned outside and a larger grocery, dairy and freezer range inside.
Romeo's currently has 40 stores. Mr Romeo says he expects that figure to remain stable in the near future as the business focuses on refurbishments.
Romeo's has 15 stores planned for refurbishments across SA and NSW.
Another focus of the business will be online. Mr Romeo acknowledged online grocery remained a difficult and expensive prospect in Australia, but said growth would be driven by click and collect.
"We'll be launching a click and collect program aligned with our online shopping and have designated carparks in our store for this," he said. "We'll launch with two stores in NSW and two in SA until we get it right. They'll have a dedicated team putting the product together and manning the stand in-store."
Celebrating suppliers
Romeo's recognised its suppliers' outstanding achievements with a gala dinner and award presentations.
British American Tobacco Australia was named Supplier of the Year, for demonstrating outstanding results, innovation, market growth and engagement with the Romeo's business.
Vittoria Food & Beverage CEO Les Schirato and Managing Director Rolando Schirato were presented with the Antonio & Elisabeth Recognition Award, for their continuous strong performance, support for and commitment to the Romeo's business.
The winners were:
Store Managers Development Program Award: The Smith's Snackfood Company.
Direct Supplier of the Year: Vittoria Food & Beverage.
Dairy Frozen Supplier of the Year: Fonterra.
Fresh Foods Supplier of the Year: Baiada Poultry.
Non Foods Supplier of the Year: British American Tobacco Australia.
Foods Supplier of the Year: Nestlé.
Antonio & Elisabeth Recognition Award: Vittoria Food & Beverage.
Romeo's 2019 Supplier of the Year: British American Tobacco Australia.