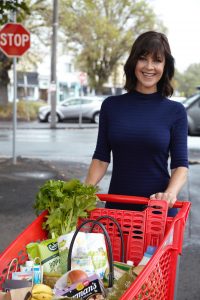 Former Brand Power Australia presenter Sally Williams has given sustainable-trolley manufacturer Supercart Australia a big boost.
The 3AW presenter and TV personality has joined Supercart as its first ambassador. She's joining the push to boost awareness of the sustainable shopping carts.
Supercart makes the carts from recycled plastic two-litre milk cartons. It says several independent businesses and supermarket giants have already bought them to replace their conventional steel-construction trolleys.
The South-Africa-born company describes itself as "a dynamic, innovative company focused on the design, development, marketing and sales of a wide array of shopping trolleys and hand baskets".
Supercart Australia trolleys – key facts
Supercart makes each 180-litre shopping trolley from 154 two-litre milk cartons otherwise destined for recycling depots or landfill.
Compared with using steel, creating each trolley uses 49 per cent less water and 68 per cent less energy.
They're made in Australia and are lighter than steel trolleys.
'Lasting change'
Supercart Australia General Manager Louw Van Tonder says the partnership with Sustainable Sally brought together "two brands committed to sustainability".
"We're delighted to be involved with Sally, who represents the values and ideals we have about our products," he said. "Like many Australian manufacturers, we're concerned about our environment, its future and the role we all play. We need everyone to get behind our Big Push for sustainability and create lasting change."
'We can all do our little bit'
For her part, Ms Williams has a regular sustainability segment on 3AW and Vasili's Garden tv show on 7Two. She says her ambassadorship is an opportunity to draw attention to manufacturers that play an integral role in sustainable practices.
"The team at Supercart Australia has been doing an amazing job developing products that lead to more sustainability," she said. "Especially in the supermarket space, where we all can do our little bit for the planet.
"We need more Australians to make conscious decisions about sustainability. It's time they did more to support businesses who act responsibly.
"I'm thrilled to be involved with the team and its vision."