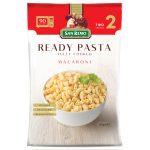 Australian pasta brand San Remo is launching a new Ready Pasta range, which it describes as "Australian-made and 100-per-cent preservative free".
There are three products in the range: macaroni, penne and spaghetti.
All can be heated in the microwave in just 90 seconds, and each serves two people.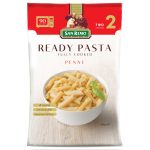 Like all San Remo's durum wheat pasta products, says the manufacturer, the Ready Pasta range is 100 per cent Australian made, in Adelaide, with natural, preservative-free ingredients.
'Busy lifestyles'
San Remo says the new Ready Pasta range is designed for "those with busy lifestyles who are time-poor, on the go, or just want a delicious meal with minimum effort".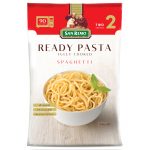 San Remo Chief Marketing Officer Erik de Roos said: "Pasta makes for a versatile, balanced meal for all the family. But sometimes we just don't have the time to create a dish with dry or fresh pasta. We wanted to introduce a range to our portfolio for those who are on the go, but still want to enjoy their favourite San Remo pasta."
The range is available in independent supermarkets in Australia, RRP $2.99.