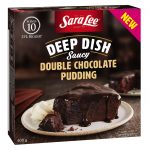 Sara Lee has introduced a new range, Deep Dish desserts, which it describes as "closest-to-homemade".
The range "mirrors" home-style cooking, the company says. The three new desserts are:
Sticky Butterscotch and Apple Pudding and Rustic Apple Crumble Pie
Saucy Double Chocolate Pudding
Rich Chocolate Ganache Cheesecake.
Sara Lee says the new desserts "mirror the generous portions and delicious flavours of traditional homemade and slow-baked desserts".
McCain Foods Desserts Product Manager Alexandra Kevork said: "We know that people love to enjoy desserts as part of their evening meal to spend more time around the dinner table with their loved ones.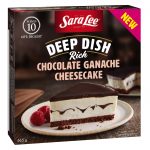 "With larger portion sizes, our new Deep Dish range satisfies that desire, serving up firsts – and seconds!
"The Deep Dish range is made with the finest-quality ingredients, including premium chocolate and golden shortcrust pastry. And it's everything consumers expect from a comforting, home-style dessert.
"Closest-to-homemade is a new occasion for Sara Lee. As our consumers continue to desire convenient, family-sized desserts with flavours and aromas that take them back to their childhoods, we intend to expand the category."
The new dessert range is now available in the freezer aisle of Coles, Woolworths and Metcash stores nationally.
RRP $7.99 (serves 10)