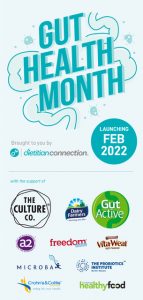 Dietitian Connection have secured Aussie brands to help launch the first ever Gut Health Awareness Month across Australia and New Zealand.
The campaign will kick off in February 2022, and will be supported by The Culture Co., Dairy Farmers Gut Active (Principal Partners), The a2 Milk Company, Arnott's Vita Weat, Freedom Food's Classic Gluten Free Cereals (Major Partners), Microba, The Probiotics Institute (Supporting Partners), and will feature collaborations with Crohn's & Colitis Australia and Healthy Food Guide magazine.
One in five Australians are affected by gut health problems like constipation, irritable bowel syndrome (IBS), intolerances and bloating. Gut problems can significantly impact a person's quality of life.
Dietitian Connection provides free continuing education for healthcare practitioners such as webinars, podcasts and resources.
The education providers have more than 34,000 members globally, with 8500 in Australia and NZ.
"The microbiome is front and centre at the moment, in terms of understanding the research and translating it into ways to help improve our gut health," says Dietitian and Author of 'Gutfull: What to Eat for a Happy Gut', Dr Joanna McMillan.
The month will also feature the launch of the 'Gut Health Month Hub', an online resource with gut healthy tips and recipes curated for Australian consumers by Accredited Practicing Dietitians.
Director and Founder of Dietitian Connection, Maree Ferguson adds, "We're proud to be partnering with some passionate dietitian leaders to meet this demand. Gut health month will provide consumers with simple tools for them to achieve positive health outcomes through diet and nutrition."
Dietitian Connection is still accepting expressions of interest from functional foods brands looking to participate in the campaign.
Contact Marketing Director and Gut Health Month lead, Kate Agnew for more information: kate@dietitianconnection.com