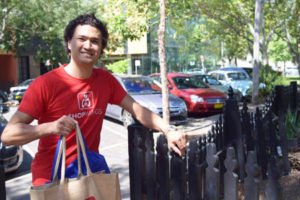 Online shoppers will soon be able to order products from Costco's core range and have them delivered by a personal shopper.
ShopWings is a personal-shopper service that delivers groceries and goods from local stores, including ALDI and Coles, within as little as one hour.
Originating in Germany, ShopWings officially launched in Sydney in February 2015 and later extended to Melbourne. Having successfully merged with competing service Grocery Butler in May, the new entity is the only on-demand grocery offering in Australia.
ShopWings has also expanded its offer to include IKEA and, in the coming weeks, will launch a Costco offer for Melbourne shoppers before rolling out to other Costco-served areas.
ShopWings Australia co-founder and Managing Director Manutea Dupont says a range of Costco's core offering will be available to ShopWings customers and, unlike the bricks-and-mortar Costco experience, no membership will be required.
"This will be a great way to display and get access to the amazing product lines that Costco offers," he told Retail World.
On average, delivery times will be longer than for ShopWings' other offerings, such as Coles and ALDI. This is mainly due to Costco's smaller local network.
"We will add any new Costco stores as they open, though," Mr Dupont said.
Meanwhile, ShopWings' geographical expansion continues, with the service to be launched in Brisbane in coming weeks. Mr Dupont says there are also plans to explore other, non-grocery verticals, such as pharmacy and home improvement.
He adds that the crowd-sourcing way of enlisting the services of a number of people is getting traction across the whole economy.
"It's a great shift and it helps us because more and more people come to us to become personal shoppers," he said. "They really see this as a new opportunity to have a flexible way to earn extra cash. It's also a cultural shift for end customers.
"This on-demand economy has a bit of a snowball effect. The more people get access and are used to convenience, the more they use it. We see this every day in our retention rates."