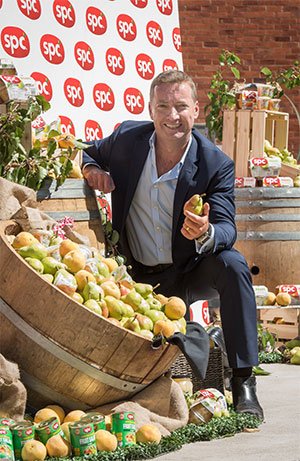 One of Australia's oldest fruit processors, and recently voted one of the top-20 brands Australian consumers can't live without, SPC officially celebrated its 100th birthday this week.
Hosting a press conference at the company's Shepparton manufacturing facility in Victoria, SPC Managing Director Reg Weine thanked loyal employees, customers, suppliers and government stakeholders who have stuck by them during the boom and bust periods of SPC's colourful history.
"We're proud to be standing here today, celebrating what is a significant milestone for an Australian business and having overcome many challenges over the past 100 years," Mr Weine said.
"We continue to transform and modernise the SPC business, but some things haven't changed a bit. We still take the best-quality fruit grown in the Goulburn Valley at the peak of the season and preserve it the same way we have for a century."
Joined by members of the community, industry and state government, Mr Weine added: "I'd personally like to thank everyone here today and all of our loyal consumers who continue to support Australian producers by buying home grown."
The press conference also recognised the $100 million investment from parent company Coca-Cola Amatil ($78 million) and the Victorian government ($22 million). Having recently completed the $100 million investment program, SPC announced it was investing additional capital in 2018 to upgrade its Shepparton facility and in new processing capability.
Having started as a cooperative in 1918, The Shepparton Preserving Company (SPC) and the Ardmona Fruit Products Cooperative (incorporated in 1921) were established by two separate grower groups to process locally grown fruit from the Goulburn Valley region in Victoria. In 2002, the two companies merged, pooling their resources and expertise to present a stronger, united Australian defence against the rise of subsidised international competitors and cheap imports. In 2005, SPC was acquired by Coca-Cola Amatil.
In 2018, SPC remains the largest producer of packaged fruit and vegetables in Australia.
"We've always believed that knowing where your food is grown is important to consumers, and we have some of the best growing conditions in the world right here in the Goulburn Valley," Mr Weine said. "With fifth-generation growers, some of whose families have been with us for than 100 years, and all our horticultural knowledge and experience, we're more than an iconic regional food producer – we're a national treasure."