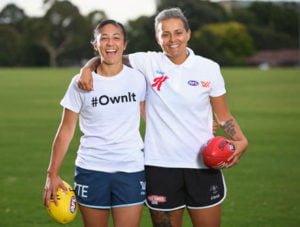 Special K will be the official breakfast cereal and breakfast snack partner of the inaugural season of women's AFL (AFLW) and has teamed up with two female stars to celebrate women's strength.
The partnership involves Moana Hope from Collingwood and Darcy Vescio from Carlton. They have a combined total of 39 years' experience on the football field and will play against each other in the opening match, which will be held at Melbourne's Ikon Park tonight (February 3).
"This is a landmark year for women in sport and for the AFL, and I'm excited to be working with Special K to empower women to get involved in the game that I love so much," Ms Hope said.
Kellogg's Marketing Director Tamara Howe says the AFLW partnership is the first of its kind for Special K globally.
The deal is an extension of Special K's 2016 campaign, #OwnIt, which is aimed at reducing pressure on women to conform to unrealistic ideals about their bodies. It follows the #OwnIt Body Confidence Survey which revealed that seven out of 10 Australian women surveyed have an 'I hate my body' moment every single week.