Streets has launched Paddle Pop Twister Mini, a frozen treat combining fruity swirls of pineapple, strawberry lemon and lime.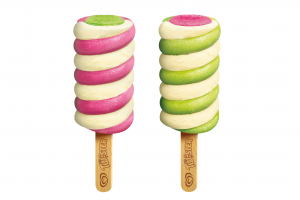 Twister Mini was first launched in the UK in 1984 and is now said to be enjoyed all over Europe,
"Sure to delight expats and dessert lovers alike, Twister's tasty twirls of fruit water ice and creamy plant-based ice offer a sensory explosion of sweet and sour matched with different textures in every bite," says Streets.
While the latest addition may look similar to the classic Cyclone, Streets says there is a difference.
"The magic of Twister Mini lies in the contrasting textures of water ice and plant-based cream, each melting at different speeds to create a fun eating experience," it explains. "With the vibrant flavours of pineapple, strawberry, lemon and lime, the fruit ice alongside a velvety, plant-based creamy ice wrap around a juicy and refreshing icy core.
"But the goodness doesn't stop at taste alone. Twister Mini is made with real fruit juice and plant-based ingredients, with no artificial colours or flavours. And as if that's not enough reason to celebrate, it's also just 39 calories per serve!"
Twister Mini is available in a pack of six (RRP $8) at Woolworths, Coles, IGA, Ritchies, Drakes and Romeo's.