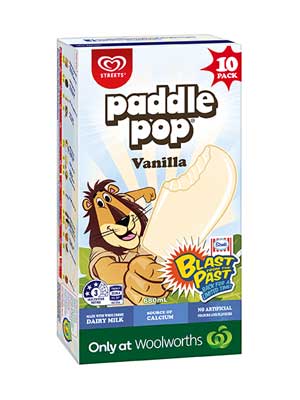 Streets Ice Cream has added another iconic Paddle Pop flavour to join its blast-from-the-past line-up with the re-release of what it describes as the "all-time favourite", Vanilla Paddle Pop, exclusively at Woolworths stores for a limited time.
Streets says that, hot on the heels of Bionic Bubble Gum returning to shelves, it has answered the wishes of Paddle Pop fans nationwide.
"The reactions to the re-released flavours hasn't been short of amazing," Streets Ice Cream Marketing Manager Scott Mingl said. "Paddle Pop resonates with heaps of Aussies and, after the number of requests for the return of Vanilla Paddle Pop, it will no doubt do the same.
"We can't wait for Aussies to get hold of the latest classic flavour and enjoy it once again."
The Australian heritage brand promotes itself as having been enjoyed by Aussies since it was born in 1953 and continuing to be a firm favourite today among young and old alike.
Streets' message is: shake up your summer with the old-school classic Vanilla Paddle Pop, but don't wait too long, because they're available for a limited time only – in stores nationwide at Woolworths.