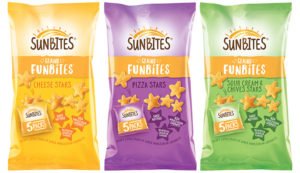 Sunbites has launched Grainy Funbites, which it says are baked, not fried, and made with 65 per cent wholegrain and no artificial colours or flavours.
The Sunbites brand says it is always looking to craft new flavour sensations for Australians, with Grainy Funbites delivering this in time for the back-to-school season.
"Sunbites Grainy Funbites reflect PepsiCo ANZ's commitment to developing innovative products that make lunch-box shopping easy for mums," PepsiCo Australia & New Zealand Marketing Director Tami Cunningham said.
Sunbites Grainy Funbites are available in Cheese, Pizza and Sour Cream, and Chives flavours.
PepsiCo says the launch marks the first phase in an exciting year of growth for Sunbites, with other initiatives set to be announced in the coming months.