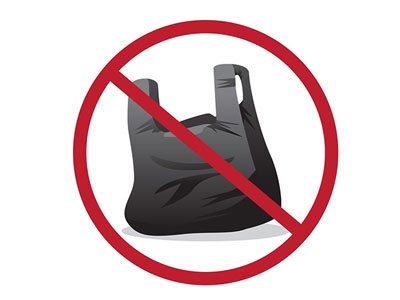 Grocery retailers Woolworths, Coles, IGA and Harris Farm Markets announce their commitment to phasing out plastic bags.
Woolworths Group will stop offering single-use lightweight plastic shopping bags across its entire store network in Australia within the next 12 months.
This approach will cover all stores across the Woolworths Group nationwide, including Woolworths Supermarkets and Metro stores, BIG W, BWS and Online. Dan Murphy's and Cellarmasters are already free of single-use plastic bags.
The phased approach will begin shortly, with the expectation that it will be fully in place across the entire Woolworths Group Australian network by June 30, 2018 or earlier.
Woolworths Group CEO Brad Banducci said: "As a group, we are committed to listening to our customers and also doing the right thing for the environment, and we feel this is an issue we need to take a stand on.
"We currently give out more than 3.2 billion lightweight plastic bags a year and hence can play a significant role in reducing overall plastic-bag usage. Today's commitment shows we are committed to taking our environmental and community responsibilities seriously.
"Our customers expect responsible retailing and they can be assured that this is just the start of further commitments by Woolworths in this space. Our team continues to work hard to minimise our impact on the environment through the minimisation of food waste, ethical and sustainable sourcing, and reduction in energy use.
"Our customers can also expect further commitments in reducing plastic use in all parts of our supply chain, especially in fruit and vegetables."
The announcement ensures that stores in states that have not yet passed government legislation in this space – NSW, Victoria and Western Australia – will come in line with stores in states and territories where this is already legislated. South Australia, Northern Territory, Australian Capital Territory and Tasmania are already free of single-use lightweight plastic shopping bags, with Queensland also legislated to join mid-next year.
Customers will continue to have access to a range of alternative shopping-bag options across the Woolworths Group network of stores. This includes thicker, reusable versions at different price points to suit customers' needs, with the exception of BIG W, which may give reusable bags to customers at no extra cost.
Coles has confirmed that single-use plastic bags will be phased out from all stores over the next 12 months in favour of more sustainable options.
The announcement follows several months of consultation with several non-governmental organisations and environmental groups on a plan to move away from single-use bags.
The move will bring Coles stores in Queensland, NSW, Victoria and Western Australia into line with Tasmania, South Australia, the Northern Territory and ACT, where Coles already complies with bans on single-use bags.
"We've been working towards this announcement for some time now as part of our ongoing program to improve environmental outcomes throughout our business," Coles Chief Customer Officer Simon McDowell said.
"We know customers like the convenience of single-use bags, so we'll make sure we have plenty of other options for them if they forget to bring their own bags from home.
"We already encourage our customers to use reusable bags when shopping in our stores nationally and will continue to provide a range of reusable bag options at different price points for sale. Our current range is available in all states and starts at 15 cents per bag."
Coles Managing Director John Durkan said: "We've been talking to our customers and exploring options for a sustainable, low-cost solution to help them get their shopping done. We'll be making further announcements as we begin implementing our plans."
As part of its commitment to better environmental outcomes, Coles will also continue to offer recycling bins for soft plastics at 630 of its stores – in what it claims is the largest retailer-operated recycling program of its type in Australia.
IGA retailers nationally have committed to being free of single-use lightweight plastic shopping bags within 12 months.
IGA National Retailer Council Chair Ian Ashcroft said: "Many IGA retailers across Australia have already implemented this in-store, along with a range of alternatives such as cardboard boxes, boomerang bags, and reusable bags.
"IGA retailers have committed to a phased approach that will be fully in place across the IGA network by June 30, 2018."
Harris Farm Markets has also announced a commitment to remove single-use lightweight plastic bags from all stores by January 1, 2018, following overwhelming consumer support for their #BanTheBag campaign.
Since its launch in April 2017, the campaign, which saw the grocer donate five cents to Clean Up Australia for every customer who said no to plastic bags at the checkout, has been taken up 836,770 times. As a result, Harris Farm will be donating more than $40,000 to Clean Up Australia.
Harris Farm Markets has been a long-term supporter of reducing plastic bag use, including previously partnering with Clean Up Australia on the issue, always having alternative carry-bag options at the checkout and calling on the NSW government for a state-wide ban.
Harris Farm Markets co-CEOs Angus, Luke and Tristan Harris have been campaigning for customers to make more sustainable choices at the checkout for many years.
"We congratulate Coles and Woolworths for making a commitment to change the trajectory of our collective pollution with a commitment to remove plastic bags in 12 months," they said in a joint statement.
"Our shoppers have also made a significant impact by saying no to plastic bags at the checkout. Together, we are all stronger.
"For at least 10 years, we have offered our customers the choice of cardboard fruit boxes as an alternative to plastic bags. From January 1, 2018, we will also offer a range of free small single-use paper bags and reusable paper bags sold at cheaper than 15 cents or cost price."