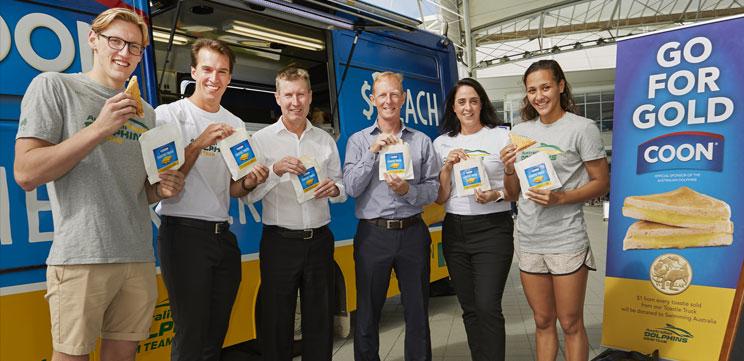 Swimming Australia and Coon Cheese have announced a two-year partnership, with Coon Cheese to play a role at Swimming Australia national events in the lead-up up to the 2016 Rio Olympics.
In addition, the Coon Cheese Toastie Truck will attend a wide range of events, with $1 from every $2 Coon Cheese Toastie sandwich going back to support the Swimming Australia Junior Dolphins Program.
"This is a perfect partnership for Swimming Australia, aligning with an iconic brand that will be supporting the development of future stars and helping our fans to enjoy their events with great-tasting toasted cheese sandwiches," Swimming Australia Chief Commercial Officer Chris Forbes said.
Along with the Coon Cheese Toastie Truck, the Dolphins brand will appear on Coon Cheese packaging in supermarkets nationwide.
"As swimming is the number one participation sport in Australia and we believe that all Australians should learn to swim, this is the right partnership for Coon," Coon Cheese General Manager of Marketing Ted Lawson said.
"We believe in promoting an active, healthy lifestyle – one in which Coon Cheese and swimming can play an important role, especially for children and young adults."
The 2016 Hancock Prospecting Australian Swimming Championships in Adelaide will see the active launch of the partnership between Coon Cheese, Swimming Australia and the Australian Dolphins Swim Team. The Championships run April 7-14.
[vc_gallery type="image_grid" images="6178,6179″]