Pepsi Lipton International has unveiled a new way to enjoy T2 teas with the launch of a new iced range.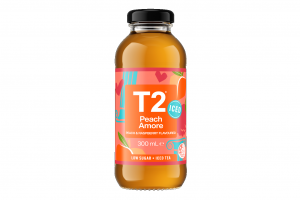 Brewed to be enjoyed "anytime, anywhere", T2 Iced offers a "refreshingly playful spin" on traditional flavours.
The ready-to-drink iced teas are low in sugar (2 grams per 100ml) with no artificial colours, no preservatives and no artificial sweeteners. The teas are also made sustainably using Rainforest Alliance-certified tea. They are available in the flavours of:
Peach Amore. A black iced tea with "notes" of peach and raspberry.
Lemon Coco Breeze. A lemon and coconut-infused black iced tea.
Watermelon Fiesta. A herbal hibiscus blend with "splashes" of watermelon and mint.
"We know consumers are seeking premium beverages that not only taste delicious but are also lower in sugar," says Pepsi Lipton International ANZ General Manager Katrina McDonald. "We couldn't be more thrilled to bring T2 Iced to consumers, a new range that delivers an elevated experience to the beverage category."
T2 Iced is available in 4 x 240ml can multipacks (all flavours) for a RRP of $10, and 300ml glass bottles (Peach Amore and Lemon Coco Breeze) for a RRP of $3.35-$4.50.
The new range is now stocked by major groceries including Coles and Woolworths. It will also be available in select convenience stores, cafes, and restaurants in the coming months.