A number of Tesco stores across London will open 24 hours in line with the new Night Tube schedule in a bid to increase convenience for late night and early morning travellers.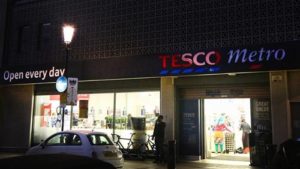 Night Tube extends London's underground transit service to 24 hours on Fridays and Saturdays. According to Transport for London, city travel demand has soared in recent years, with passenger number on these nights up around 70 per cent since 2000.
Tesco anticipates the service extension will increase convenience store demand and is trialling seven additional stores for 24 hours on Fridays and Saturdays along the Victoria and Central lines.
"At Tesco, we're always looking for new ways to serve London's customers whenever it's most convenient to them," Tesco London Convenience Director Martin Smith said. "That's why we're delighted to announce these new opening hours at select stores, helping to make life easier for those either working late or enjoying London's nightlife."
To mark the launch of these extended hours, Tesco set up 'Hydration Stations' at the front of stores running from 3am-7am on August 19-20.
Staff at the stores handed out Tesco's private-label freshly squeezed orange juice and cold bottled water, rewarding night workers benefiting from the new 24-hour service and helping refresh partygoers heading home after a night out.