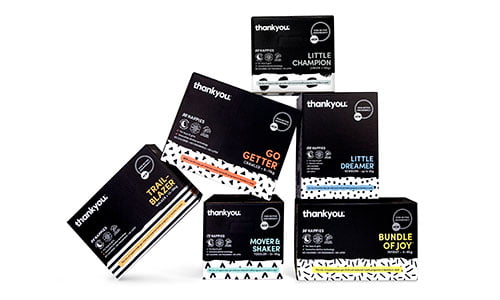 In a no-risk promise to parents, social enterprise Thankyou has launched a guarantee that Thankyou nappies will get parents through the night or the company will send a box of the current market-leading brand, Huggies, to their door.
The campaign is based on the insight that trying a new nappy brand is an emotional and financial risk for parents, and results from independent testing showed Aussie parents (who used other nappy brands) would recommend Thankyou's new and improved nappy with the leading brands, with the  majority also saying they'd now buy Thankyou nappies.
At the same time, only eight per cent of Australian parents have tried the Thankyou nappy on their child, making it the best nappy that 92 per cent of Aussie parents haven't tried.
Thankyou co-founder and Managing Director Daniel Flynn said that with this offer consumers win, and hopefully Huggies takes it as a compliment.
"Businesses have 'de-risked' products for years through a money-back guarantee – this is the evolution of that strategy, one that offers a solution beyond just refunding money to show how deeply we care about giving people the best products, even if that means sending them another brand," he said.
Thankyou commits 100 per cent of profit to help end global poverty, with over $5.8 million committed to date. Within this, the baby range has funded safe births and healthcare for over 94,477 mums and bubs in Nepal and Zimbabwe.
The 'We'll get you through the night' offer runs from April 16 until the end of May 2018. Valid for Thankyou nappies bought in-store and online at Coles, Woolworths and Baby Bunting at RRP $28.