Showing customers that what they see is what they get will win them over.
By Drakes Director John-Paul Drake. 
I'm told a lot that people are surprised that what they see of me on their screens is exactly how I am in real life. I can assure you this is not an act. This is me. I can't be anyone else.
When you're sitting there on a weeknight watching the latest episode of Big Brother and the TV commercials pop up, which are the ones that stick with you? Those that have paid actors who can't actually relate to the product they're selling? Or those ones that feature the business owner, its suppliers or staff members in them? You know they're a part of the brand because you've seen them in real life stacking the shelves, meeting buyers, unloading trucks – doing what needs to be done to keep their business going.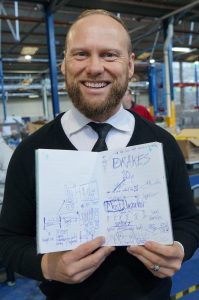 When you see 'real' people on screen, do you feel a sense of connection? Not just with that person, but with the brand they represent? That authenticity resonates with your psyche, and you're not alone. We feel inspired by authentic brands and become emotionally invested in their success. The millennials and Gen Zs are notorious for shopping with a conscience, much more so than their predecessors.
The old-school way of doing business is to do it behind closed doors. As a consumer, you need to peel away the layers of the onion to get to a brand's true core values, not just those being peddled by the PR machine. Let's face it, no consumer is going to make that much effort to uncover your core values.
At Drakes, our core values are about being open and honest, transparent, communicative and authentic. What you see is what you get, and I'm not shy about saying it. The Roger Drake you see in stores is the same Roger that you see in the boardroom. The JP Drake you see on LinkedIn is the same JP you see on the shopfloor.
What person or brand comes to mind first when you think of authenticity? To me, it's Gary Vaynerchuk of VaynerMedia. Everything he does across his multiple platforms feels authentic. He says what's on his mind and you know exactly where you stand with him. Most importantly, he's not afraid to change his mind and tell people he's changed it.
Here are three ways, as a brand, you can be authentic in what you do:
Use your assets to your advantage. For example, Roger Drake and I are the public faces of the business to promote the brand. Why? We know there's no Mr Coles or Mrs Woolworths. But there'll always be a Mr or Ms Drake at the helm of Drakes.
Ensure you have strong relationships with the people in your ecosystem. Your team, your customers, your suppliers. When you build strong relationships, you give yourself the ability to have tough and honest conversations which can ensure better outcomes for the brand.
Do what you say you're going to do. Don't just talk the talk, walk the walk. Too many brands these days have all the right words but never action them.
Being authentic is critical for today's environment. You may not always be right or you may make mistakes, but it's how you own these mistakes and rectify them that shows the real grit of a brand.
Want to get to know me and my brand? Connect with me!
LinkedIn: @johnpauldrake
Facebook: @JPDrakeAU
Website: www.jpdrake.com.au
YouTube: jp drake
Instagram: @shake.and.drake
Podcast: /DucksDontGetColdFeet
About John-Paul Drake 
John-Paul Drake has retail in his blood. Starting out as the trolley boy and shelf stacker 30 years ago in the family business, his passion for retail is firmly solidified as the Director of Drakes. JP is a staunch supporter of supporting local and is not afraid to call it like he sees it.