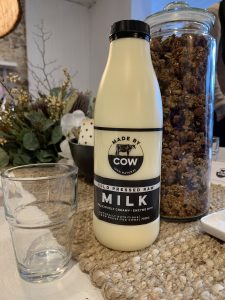 An Australian company has developed a safe way for people to enjoy the established benefits of untreated milk, without resorting to the use of heat pasteurisation.
Launched at an event in Sydney this week, Made By Cow uses a new, patented, breakthrough method approved by the NSW Food Authority. The product is claimed to be a world first.
Up until now, according to Made By Cow, untreated milk, often known as raw milk, has needed to be heated to at least 72 degrees to destroy harmful bacteria. It is also often subjected to separation, homogenisation, recombining and standardisation, before finally being bottled and sold on shelf in the supermarket.
About Made By Cow
Made By Cow says its world-first technology focuses on careful herd management and more hygienic milking practices from a single Jersey herd on the NSW South Coast to produce higher quality milk.
The milk is bottled straight from the farm and immediately placed under cold high pressure. This pressure destroys the harmful pathogens, while being gentler on milk's natural nutrients.
The result is a "safe, unaltered, deliciously creamy, cold pressed raw milk".
While the high pressure is lethal to bacterial cells, Made By Cow says it does not impact the smaller molecules such as vitamins and enzymes, many of which are destroyed by heat-based processing.
The product is said to be filled with protein, potassium, calcium, vitamin B2 and vitamin B12. In addition, the live enzymes in Made By Cow Cold Pressed Raw Milk remain intact.
Introducing Made By Cow to Aussie supermarkets and the world
Made By Cow CEO Wade Porter is thrilled to be bringing the product to the world with the product now on shelf in health food and independent grocery retailers across Australia, in a 750ml and 1.5lt size.
"Other than our dairy farmers, our grandparents were probably the last people to taste milk the way it's supposed to taste, without heat pasteurisation, homogenisation and all the other processes that are used when producing standardised milk," Mr Porter said.
"Our milk contains more of milk's natural goodness whilst still being 100 per cent safe from harmful bacteria, and we're paying our farmers a premium – which to us is just as important as the improved taste and nutrition profile."
Due to the unique approach of Made By Cow, where the milk is treated inside the bottle, the milk can obtain a six week shelf life.
The company says that several countries have already reached out to discuss the patent technology used by them in the Sydney suburb of Homebush. Made By Cow expects this to be an "extraordinary" export opportunity for the company and the dairy farmers themselves.