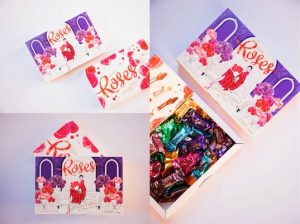 Cadbury Roses is collaborating with Australian illustrator Megan Hess to design a special gift pack in time for Mother's Day.
It's the first time the two have ever worked together, Cadbury says.
Cadbury describes Megan Hess as "an international fashion artist who works with some of the most prestigious fashion designers and luxury brands around the world".
To design the limited-edition box, Megan Hess has taken inspiration from the traditional Roses box. She then put her own unique modern twist on it.
Celebrating women
"I'm thrilled to be collaborating with Cadbury in celebration of the important women in my life," Ms Hess said.
"I'm excited to be able to share my illustrations with Australian women through Cadbury Roses and make this classic gift even more special.
"Being a mother, I understand how important it is to share these special moments with your loved ones."
The limited-edition Cadbury Roses box, designed by Megan Hess, is available in 450g boxes. It's now available at confectionery retailers across Australia.