Tim Tam and Deliveroo are giving away 5000 free packs of Tim Tam with all eligible orders to celebrate World Chocolate Day on 7 July.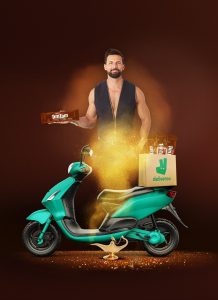 The Tim Tam Genie is back granting more wishes on World Chocolate Day! Australia's favourite chocolate biscuit brand has teamed up with the food delivery experts at Deliveroo to deliver free packs of Tim Tam biscuits with eligible Deliveroo orders on 7 July.
Purchase of $25 or more from one of the 100 participating Deliveroo restaurants in NSW, Victoria, Queensland, WA, SA and ACT this World Chocolate Day for a chance to claim one of the 5000 free packs of Tim Tam Originals with your meal.
Arnott's Marketing Manager Matt Grant says, "With a little help from our friends at Deliveroo, the Tim Tam Genie is granting nearly 5000 wishes for consumers across the country on World Chocolate Day. Tim Tam is Australia's favourite chocolate biscuit, so what better way to celebrate. Tim Tam and Deliveroo team up to make your favourite takeaway a little sweeter and a whole lot more indulgent – what more could you wish for?"
Joe Satari at Deliveroo says, "We love chocolate and we really love delivering a little bit of extra indulgence in our customers' orders. This World Chocolate Day we are spoiling our customers with not just one Tim Tam, but a whole pack! Joining forces with Australia's most iconic chocolate biscuit has brought a touch of magic to this national calendar date, and we hope we have made every chocolate lover's dream come true!"
The offer is available on the 7 of July until stocks last at participating Deliveroo restaurant partners.