Trident Sales & Distribution Australia has been in operation since 1998, and during this time, the business has steadily built itself up to be one of the biggest drinks distributors in Sydney.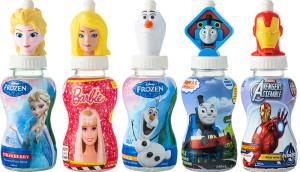 Trident has an enviable range of character licenses across a range of children's drinks, with even more to come this month.
"Due to the popularity of our licensed kids' drinks, we have added Joe's Sippers, our new licensed character head kids' drinks to our range," said a spokesperson for Trident Sales & Distribution.
"Launching in mid October into Coles and Woolworths as well as smaller independents, these kids drinks are a first of its kind in Australia. They come in favourite children's characters of Elsa and Olaf from Frozen, Thomas the Tank Engine, Barbie and Iron Man. With only 2.6g of natural sugar, they are a healthier alternative to other kids' drinks on the market.
"They come in a shelf-ready, full-colour display carton for easy and effective display, and with a no-spill, tamper-proof cap to ensure freshness and quality. With year-round massive license awareness campaigns are run, our character licensed kids' drinks always have a very big presence."