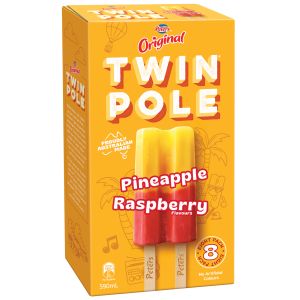 Kicking off ice cream season with a bang, Peters Ice Cream has launched the dual stick frozen treat, Twin Pole.
The name might sound familiar to West Australians – Twin Pole was once an icon enjoyed only by those on the West Coast. Now it's back and available for those across the whole country.
For almost a decade now, Twin Pole's biggest fan, Neil Hancock, has been campaigning for its return. He even started up the 'Bring Back The Twin Pole' Facebook Group, where he has maintained his devotion to get his favourite frozen treat back.
"Twin Pole was my favourite treat," he says. "I would always have one after playing squash and have many happy memories associated with it. I even had Twin Poles at my wedding! I always hoped that Peters would see the group and bring it back, but now it's a reality I'm blown away by the surprise."
Peters Original Twin Pole has a unique appearance with its dual stick format "offering twice the fun and two scrumptious flavours that were made for each other".
In addition to the original (Pineapple Raspberry) water-ice flavour that West Coast folk know and love, Peters has introduced two brand new flavours: Vanilla Chocolate and Cookies & Cream.
Peters Head of Marketing, Andrea Hamori, says: "Twin Pole has a special place in our history and we are excited to bring back this iconic treat, alongside two brand new flavours. We loved Neil's story and passion for Twin Pole and couldn't wait to share the news with him, as well as sending him a few boxes of Twin Poles of course."
Available in a family fun multipack of eight (RRP $7), Peters Original Twin Pole is available in all leading supermarkets Australia-wide.