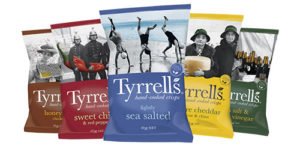 UK snack food company Tyrrell's has announced a deal to expand its brand and manufacturing presence in Victoria's Yarra Valley. 
The deal provides Tyrrell's with a home base for its products to be manufactured in Australia and distributed nationally and, ultimately, throughout Asia, and will eventually see 120 jobs created. The deal has been supported by the Victorian Government, which has provided the company with a grant to help drive job creation and economic growth.
The arrangement follows the purchase of local snack food manufacturer Yarra Valley Snack Foods in August 2015 and the successful launch of Tyrrell's in the Australian market in 2014. Australia is now Tyrrell's second-largest foreign market after France. The Yarra Valley factory is Tyrrell's first manufacturing location outside of the UK.
"We are delighted to be investing in Australian manufacturing," Tyrrell's CEO David Milner said. "Our hand-cooked crisps have been extremely well received in Australia, where consumers value well-made food with provenance."