Uncle Tobys Oats and Vegemite are asking the nation to cast their vote for a brand-new product, Uncle Toby Oats with Vegemite.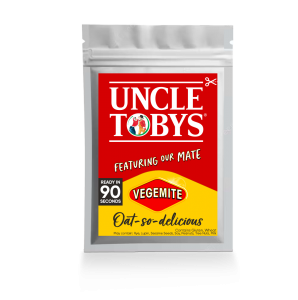 The duo has tapped into the experts at the Uncle Tobys R&D lab to create an exclusive hand batch of Uncle Tobys Oats with Vegemite to put to the taste test. They are asking Aussies to vote on whether the mashup should officially make it to store shelves.
Uncle Toby Oats with Vegemite sees Uncle Tobys' "smooth and creamy" oats combined with the "savoury notes" of Vegemite, said to be "perfect" for those who want the taste of oats with a new flavour twist.
With Uncle Tobys marking 130 years of oats and Vegemite celebrating its centenary on 25 October, the collaboration is promoted as a "double celebration" for the "Aussie favourites".
"We're thrilled to be working with the Vegemite team to bring our two brands together and can't wait to hear if Aussies want to see Uncle Tobys Oats with Vegemite to appear on shelves officially," says Nestlé Head of Marketing Uncle Tobys Michelle Katz.
Vegemite Marketing Manager Jess Hoare adds: "As this year marks a significant milestone for both of us, it's a no-brainer to come together and celebrate the versatility of both products: combining two icons to create something unique and flavoursome."
The two brands ask Aussies to visit uncletobys.com.au/uncletobysxvegemite to have their say.