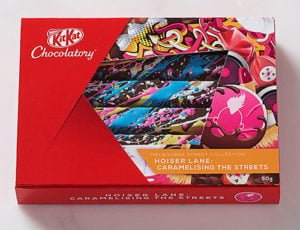 KitKat is launching its first permanent store in Australia, the KitKat Chocolatory in Melbourne, where consumers can create their own personalised KitKat.
Opening today [October 21] in the Melbourne Central shopping centre, the Chocolatory offers a "premium chocolate experience" where customers will be able to buy handcrafted chocolates and one-off flavour combinations.
Nestlé says customers, using 100 per cent sustainable UTZ-certified chocolate and an ever-changing range of ingredients, can put a personal stamp on their favourite chocolate and create custom-made KitKat bars.
To celebrate the opening, KitKat has teamed up with Melbourne street artist Dvate and 'Punk Princess of Pastry' Anna Polyviou. The creative duo collaborated on the exclusive KitKat Melbourne Street Collection, which is available only in this store.
"As people become more creative with what they eat, we're continually looking for ways to innovate and reinvent the traditional break," Nestlé Australia Head of Marketing for Confectionery Anna Stewart said. "Working with Dvate and Anna, who are famous for their individuality and artistic talent, is a fitting way to unveil our first permanent [Chocolatory] location here."