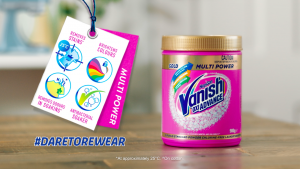 (Feature image: Katherine Sabbath)
Vanish Australia is challenging shoppers to #DareToRewear their clothes, with confidence, in launch of its new-look Vanish Nepisan Gold Multi Power.
More than 500 million kilos of unwanted clothing end up in landfill every year* (equating to a 20 kilo suitcase per person).
Therefore, Vanish has launched the #DareToRewear challenge, encouraging Aussies to rewear clothes, instead of buying new, in a bid to help prevent textile waste.
The new-look Vanish Napisan Gold Multi Power includes four core benefits, such as removing stains even in cold water**, keeping colours looking great, removing odours in soaking***, and antibacterial soaking capabilities.
Celebrity baker, Katherine Sabbath, first-time dad, Cameron Merchant and fashion designer, Yasmin Jay are kicking off the challenge with Vanish via a series of TVCs and online spots in the coming months.
Each of them will also test out the new-look Vanish Napisan Gold Multi Power on a wardrobe favourites in their closet.
"I know I wasn't alone in having items in the back of my closet that I was emotionally connected to and couldn't bear to part with, despite them being stained or smelly," Ms Sabbath says.
"Thanks to Vanish Napisan Gold Multi Power and the #DareToRewear challenge, I now feel as though they – and I – have a new lease on life. Plus, it feels good to re-wear gorgeous dresses that I already have access to."
RB Hygiene ANZ Marketing Director, Saurabh Jain adds: "Aussies can trust Vanish Napisan Gold Multi Power to remove stains and odours (in soaking) while keeping the colours looking great, to give our existing clothes a new lease on life and help reduce the number of textile items entering landfill each year."
Learn more at vanish stains.com.au.
*Clean Up, 'Fast Fashion', Retrieved from: https://www.cleanup.org.au/fast-fashion
**Removes stains even in cold water In approximately 25°C
***Removes odours in soaking on cotton