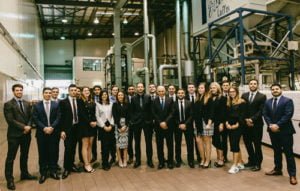 Vittoria Food & Beverage has recruited its 50th university graduate to participate in the company's graduate program.
Vittoria says its customised and multi-faceted graduate program "fosters the next generation of industry leaders".
The 16-month program is designed to educate, stimulate and empower the graduates, who are groomed for success by being exposed to multiple career paths, significant projects and frequent job rotations.
In its 15-year history, the program has produced many frontline employees, including Vittoria Managing Director Rolando Schirato, Purchasing Manager Simon Creswick and Senior Marketing Manager Joshua Passaro.
"We're different in the way we recruit and the fact that we spend so much time on training," Vittoria Food & Beverage CEO Les Schirato said.
The program begins with a four-week induction followed by hands-on experience in a range or roles including sales, marketing, key accounts, training and technology.
The program involves rounds of coaching and training as well as participation in high-profile activations such as Australian Fashion Week and philanthropic endeavours such as the Tour de Cure Snow Ball fundraiser for cancer research.
Vittoria says another major difference between its graduate program and standard programs is the extensive interaction graduates have with senior management.
"From my experience in internships, they're often low on the totem pole and you don't see how your work is contributing to a company," recent program graduate Erin Ford said. "Here, you're working with general managers and, even more unusually, with the MD and CEO."