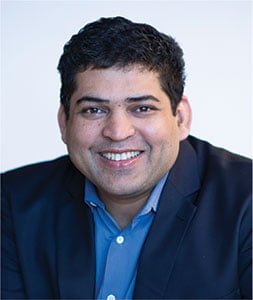 Consumer goods company Procter & Gamble (P&G) has appointed Vivek Gupta as its new Managing Director and Vice- President for Australia and New Zealand. Previously P&G sales director for Australia and New Zealand, Mr Gupta has been instrumental in achieving strong business growth, partnering with retailers to create value for consumers and the market.
Mr Gupta assumed the new role on April 1, 2018, taking leadership of the company's sales and marketing operations in the region. He has succeeded Antoine Brun, who has returned to Europe to lead P&G's south-east Europe business unit.
P&G brands include Ambi Pur, Fairy, Oral-B, Gillette, Head & Shoulders and Vicks.
Retail World spoke with Mr Gupta about his experience and plans for the business.
Congratulations on your recent appointment to Managing Director of P&G. Can you tell our readers about your journey to this position?
I originally joined the company as a management trainee in India almost 20 years ago. After completing my engineering degree, I went on to complete my MBA from the Indian Institute of Management and was recruited by P&G.
I was really inspired by the quality of the brands and products and it was an easy choice to join the company. My first role was as a sales rep responsible for selling and distributing P&G brands like Vicks, Whisper, Pantene and Head & Shoulders to around 1,500 retailers in small villages in India. Since then, I've worked across all of our brands, categories and retail channels in both developed and developing markets around the world.
I moved to Australia in 2008 to learn modern trade, and after working on different accounts was promoted to lead commercial operations and then became sales director for Australia and New Zealand. I'm very fortunate that the company has given me the opportunity to lead the business as Managing Director, and I'm inspired by the opportunities to partner with our customers and stakeholders to drive category growth via some of our world-leading brands.
What has been your biggest achievement to date – whether professional or personal?
Over the years we've celebrated terrific achievements as a company, but the last three years in Australia and New Zealand stand out to me. A highlight has been the feedback and response we are getting from our customers. Last year in the Advantage survey, P&G was rated one of the top suppliers to work with by our key retail partners. This was very rewarding because it was a whole-team effort to turn our results around. We deliberately focused firstly on driving total category growth, secondly on on- shelf availability with great service and thirdly on relentless focus on execution for shoppers.
On a personal level, P&G is a 'promote-from- within' company and we take great pride in developing leaders. In the last year alone we've promoted 16 managers in Australia and New Zealand, and it makes me proud that our growth and success as a business provides these terrific opportunities for our people. We are creating local leaders who will lead this business in the future.
What philosophies do you operate on in business and how will this flow through to the P&G business?
When I come to work, I leave my ego at home. I have always believed that positivity drives the mood of the organisation and brings a 'can-do' attitude. I was brought up in a family- owned business, and for me it's very important to act like an owner of the business. I feel that the true value we can offer customers is when we deliver total category growth and value creation – we are not only about growing shares. Winning is important to us, but growing the pie is even more important. I also believe that if we don't talk straight, we can never find the best outcome.

What impact or legacy would you like to leave the organisation with?
For my organisation, I want them to have the confidence, capability and ambition to be the leaders of the future. They need to be happy and should have the time and energy for the things that are most important to them. For me, for example, it is so important to have time to spend with my family when I leave the office.
How are P&G's local operations influenced by global activities such as trends and launches?
One of P&G's strengths is that we are part of a global organisation, with unparalleled consumer and category insights, which helps us stay at the forefront of product innovation. However, we are also dedicated to understanding our local consumers and industry trends and this is what fuels our thought leadership with our customers and ongoing focus on category management.
What are retailers doing well, and what areas can be improved on?
Australian retailers are among the most sophisticated in the world, with a strong focus on value for Australian shoppers. But we need to partner with our customers in long-term planning to reduce cost and improve value to shoppers. That's why we are committed
to bringing the best innovation to the market, supported by the best in-store shopping experience, to fuel total category growth.
Last year, your predecessor stated that "Australia is the most promotional market in the world", despite Australian consumers being "not very promotion sensitive, price sensitive". How are the pricing wars in Australian supermarkets affecting P&G's sales? What is P&G, as a major player in several grocery categories, doing to break the cycle of promotions?
There are good promotions and bad promotions. We need to do more good promotions and less bad promotions. Good promotions are good for P&G, good for the retailer, and good for shoppers.
How has the rise of online shopping affected P&G's sales through traditional channels such as grocery and pharmacy? Are parallel/ grey imports affecting P&G's brands?
Winning online and offline is a key part of our commercial strategy. We know that shoppers are often searching for and reviewing products online, even if they are not buying online, and we need to be present everywhere our consumers are. P&G has unparalleled capabilities to win with online retailers and we are investing to bring more of those capabilities to the local market.