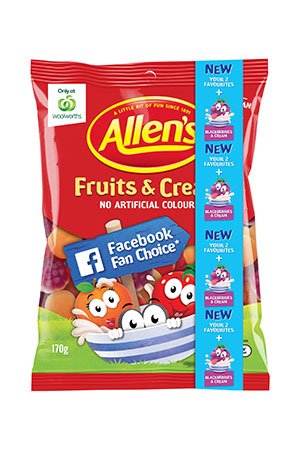 Following a week-long campaign that pitted three contenders against one another, Allen's has announced the latest addition to its Fruits & Cream range – Blackberry & Cream – based on consumer votes.
Voting for the newest flavour was hosted online and supported through Allen's Lollies' social-media presence, with more than 35,000 votes cast.
The choice was between "classic sweet, yet tart green" Apple & Cream (22 per cent of votes), the "luscious and velvety" Blackberry & Cream (64 per cent), and "latest trend, zesty" Yuzu & Cream, featuring a Japanese fruit that offers an aromatic citrus taste (14 per cent).
The winner, Blackberry & Cream, has joined Allen's flavours Strawberries & Cream and Peaches & Cream in a new Allen's Fruits & Cream mix.
The yearly Allen's vote follows last year's search for a remixed "classic", in which Ginger Cats, Choc & Cream, and Funny Teeth were the candidates. Choc & Cream took the top gong with "overwhelming support from Aussie lolly lovers", according to Allen's. In 2016 Allen's fans were invited to decide which jelly deserved its own bag, with Peaches & Cream the top pick.
Nestle General Manager Confectionery Martin Brown says Allen's has a history of listening to its fans to ensure the quality of its confectionery.
"We know that our fans are extremely passionate about being involved in the lollies we create," he said. "What better way to decide on a new Allen's lolly than with the help of the nation?
"The final addition to the new Allen's Fruits & Cream mix has been chosen by our fans – the never-been-tasted-by-the-public Blackberry & Cream is sure to put smiles on faces when it arrives in store next month.
"We can't wait for our lolly lovers to taste this latest flavour in the Allen's line-up. And no matter how you like to eat your Fruit & Cream – fruit or cream first, or all in one go – it's sure to be truly delicious."
The new Allen's Fruits & Cream mix bags (170g) hit shelves in mid-February and are available exclusively in Woolworths (RRP $2.95).