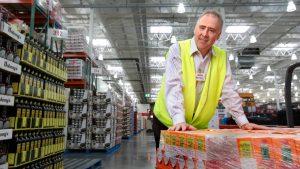 Costco Australia has launched an online shopping offer, enabling customers to order select goods and have them shipped to their home or business.
As with purchasing from one of Costco's 11 physical warehouses around Australia, shoppers will need to be a member. Membership ranges from $55 (Business membership) to $60 (Gold Star membership). Members will also need to register for an online account to take advantage of the new offer.
What's on offer?
Costco says online shopping is an additional benefit to a cardholder's membership and should complement the warehouse offering.
The current online range is predominantly non-foods, with a very small amount of grocery and liquor items also available.
Costco Wholesale Australia Managing Director Patrick Noone says the items online will be "largely different and unique" to what is available in the warehouse.
"It is designed to be different to give our members additional value and access to an expanded offering to the warehouse," he says.
Current product categories include Electronics, Kitchen & Laundry Appliances, Home & Furniture, BBQs & Outdoor Living, Home Improvement, Sports & Fitness Equipment, Jewellery & Watched, Wine & Spirits, Clothing, Luggage and Handbags.
Mr Noone says Costco will continuously add and grow the offering, each time notifying our members of what's new and hot buys.
"We'll continue to grow the non-foods offering [and] we will introduce grocery/foods and fresh departments at a later date in the future, yet to be determined."
Delivery and pricing
The cost of shipping is included in the price listed on the website for each individual item. Radiant Laundry Powder (8kg) is listed for $38.98, while Lavazza A Modo Mio Passionale Coffee Capsules (96-pack)are $36.35.
Members in different parts of Australia will have access to different ranges. For example, liquor is not available to shoppers in South Australia and Queensland.
The availability of certain items is expected to evolve as the offer rolls out. Initially, small items and pack sizes will be delivered nationally, while medium/large size items (ie, large TVs and bigger) will be shipped to metropolitan areas on the east coast only. This will later be extended.
"We will expand the delivery zones as we grow and will advise members as we open up delivery zones," Mr Noone says.