Wembley SUPA IGA in Perth has partnered with Additive Free Kids to assist consumers in identifying additive-free products.
With concerns about food additives growing, the partnership aims to help WA families decipher food labels "quickly and easily".
"Unfortunately, it's not always easy to identify harmful additives on product labels," owner and Managing Director of Additive Free Kids Ms Francine Bell said (below, with Deryck Kippen). "The labels don't always tell the whole story."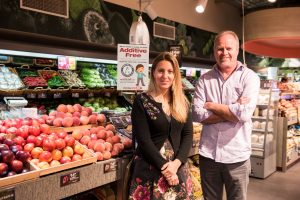 As Ms Bell points out, manufacturers can legally list additives by either name or number. This means consumers need to know both to decipher them.
"Current labelling laws allow any ingredient constituting less than five per cent of the product to be omitted from the label. This makes it very difficult even for a dedicated consumer.
"For example, manufacturers could list margarine as an ingredient and not need to stipulate all the ingredients included in margarine, if it constituted less than five per cent of the product.
"These ingredients often contain additives such as colours, preservatives and antioxidants. But these would not be declared on the label."
First flags
Co-owner of Wembley SUPA IGA Deryck Kippen said: "We've always been dedicated to offering a large variety of quality fresh and health-food options to our customers.
"But we wanted to go one step further. Being able to make something a little easier on parents shopping and contribute with a healthier lifestyle is an important part of the way we do business."
Mr Kippen and his team first flagged products that were free of harmful additives on shelves on August 25. The flags have an easily recognisable logo. Mr Kippen says the response from customers has been "outstanding".
"Being able to find additive-free products without needing to read through fine print on labels has saved our customers a lot of time when shopping," he said. "And we've noticed many additive-free lines selling out now ahead of others."
So far, the store has reviewed more than 7,200 products and identified more than 1,400 as additive free. This took a total of 140 hours over a period of two months.
"We want to ensure families have easy access to additive-free food," Mr Kippen said.