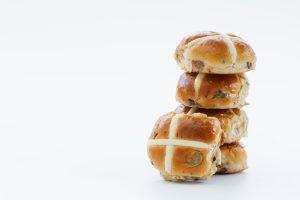 The Canstar Blue 2020 hot cross buns review has compared the Coles, Woolworths, Costco, ALDI, IGA and Foodland seasonal snack.
Hot cross buns were compared between their freshness, taste, variety, value for money and overall satisfaction.
Canstar Blue surveyed more than 2000 consumers who had purchased and eaten supermarket branded hot cross buns in the lead up to Easter.
Who took out top spot?
As rated by consumers in Canstar Blue's 2020 review the order is as follows:
1st Coles/Woolworths
3rd Costco
4th ALDI
5th IGA
6th Foodland
Coles and Woolworths were both rated 5 out of 5 stars for overall satisfaction, therefore leading them to tie up on 1st place.
Speaking on Coles' win, Canstar Blue says:
Coles is hopping its way into Aussies' stomachs, armed with a basket full of traditional hot cross buns, as well as apple & cinnamon and chocolate varieties.  
Coles managed to plate up a 5-star win in most categories, including taste, freshness and overall satisfaction. Although it ended a little soft on value for money where it got 4 stars.
Explaining why Woolworths tied for 1st place, they said:
Woolworths offers a tasty variety of hot cross buns, including traditional, fruitless options and chocolate flavours.
The joint winner earned full marks for taste, freshness, variety and overall satisfaction. It also achieved a respectable 4 stars for value for money.
In terms of overall satisfaction, Costco, ALDI, IGA and Foodland all scored a 4 out of 5-star rating.
For more findings on how Aussies like to eat their hot cross buns, click here.