Earlier this year Whittaker's launched a mix of four high-percentage dark chocolate flavours, which will now all be available from Whittaker's online Gift Shop.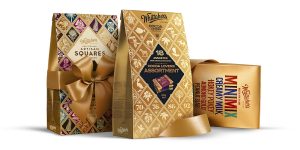 "We're really looking forward to getting into the Christmas spirit by extending our range of assortments and providing a way for Whittaker's Chocolate Lovers to buy their favourites from us directly, which we'll gift wrap with care and send to their loved ones in New Zealand or overseas," says Whittaker's Co-Chief Operating Officer, Holly Whittaker.
The team at Whittaker's say that the Whittaker's Cocoa Lovers Assortment is the perfect gift for any dark chocolate lover this Christmas.
The dark assortment contains 18 individual squares of Whittaker's Cocoa Lovers Collection flavours – 92% Ghana Intense Dark, 86% Ghana Extra Dark, 76% Nicaragua Rich Dark and 70% Samoa Smooth Dark chocolate – and comes in a recyclable paper pouch.
This is the first time that Whittaker's are offering their chocolate for purchase directly from their website, alongside the usual retail outlets nationwide.
"It's been a tough year for lots of Kiwi's whether in New Zealand or abroad," continues Ms Whittaker.
"With borders remaining closed, we've worked hard to make our online gift shop happen so that we can make it that little bit easier for Whittaker's Chocolate Lovers to buy local and for Kiwis overseas to enjoy a taste of home."
The assortments are available direct through the online Whittaker's Gift Shop from 25 November 2020.
Ms Whittaker says, "While we're currently only offering our three assortments through the new online Whittaker's Chocolate Gift Shop, especially to cater for Christmas gift-giving, we hope there may be opportunities to expand the range available there in the future."
Click here to visit the Whittaker's Gift Shop.