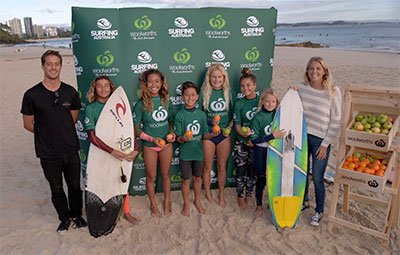 The retailer is set to be the driving force behind Surfing Australia's junior surfing pathway following the announcement of an expanded partnership.
The partnership now includes the 10-event Woolworths Surfer Groms Comps presented by Wahu series, Surfing Australia's six affiliated state branches' Woolworths State Junior Surfing Titles, with 18 events to be run nationally, and the Woolworths Australian Junior Surfing Team.
The Woolworths Fresh Wave award will also be provided to the best and fairest junior surfers at events.
"As an Australian brand, we're proud of a partnership that helps develop the future talent of such an iconic Aussie sport," Woolworths Director of Marketing Andrew Hicks said.
"With the expanded commitment, we're pleased to be able to support more junior surfers in reaching their potential, as well as inspire a fresh wave of surfing talent to take a healthier path to their future success.
"As the major junior events cross the country, we're also looking forward to being able to connect our customers and store teams with the sport and to celebrate the next generation of champions in local communities in each state."
Surfing Australia CEO Andrew Stark says the partnership with Woolworths is a "perfect fit," citing the organisation's aligned values and purpose.
"We are excited to roll out this truly national-reaching junior surfing program with Australia's fresh-food people," he said.
Adding to Woolworths' partnership assets will be their support of the Surf Dive'n'Ski Australian Junior Surfing Titles, Weet-Bix SurfGroms, Surf for Life Project, the Hurley Surfing Australia High Performance Centre, and the nudie Australian Boardriders Battle including eight state events and a national final.
The partnership will also see Surfing Australia continue to produce content across its digital and broadcast platforms, including on mySURF.tv and on Surfing Australia TV presented by Woolworths on Channel 9 GO! and Fox Sports.
The first event of the new partnership is the Woolworths NSW State Junior Surfing Titles starting at Port Macquarie, NSW, today.