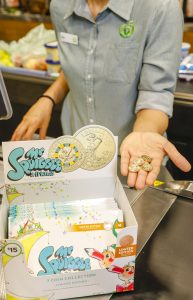 Woolworths is commemorating 60 years of TV character Mr Squiggle, with the release of limited-edition coins in its supermarket registers.
The supermarket giant describes Mr Squiggle as "one of Australia's most loved TV characters ".
'Mr Squiggle has entertained millions'
The Royal Australian Mint is fashioning the special $2 coins. There will be four in all, depicting Mr Squiggle himself, plus his friends Gus the Snail, Bill Steamshovel and Blackboard.
Minister responsible for the Royal Australian Mint, Assistant Minister for Treasury and Finance, Zed Seselja, said: "Since first appearing on TV screens across Australia in 1959, Mr Squiggle has entertained millions, including me when I was growing up, with his impressive drawings and inquisitive nature.
"I'm thrilled Australians will be able to celebrate Mr Squiggle through this collector coin series. It's a tribute to a character well-loved in Australian culture.
"The vibrant colours and intricate illustrations on the coins capture the fun and wonder that Mr Squiggle brought to Australian households for decades."
'Fun and imaginative view of the world'
Rebecca Hetherington, daughter of Mr Squiggle creator Norman Hetherington, said: "lt's such an honour to have the Royal Australian Mint and Woolworths immortalise my father's work in this unique way.
"The coins perfectly represent Mr Squiggle's fun and imaginative view of the world, attributes he shared with my father.
"I'm excited to share this opportunity with Australians who have grown up with him and remember him fondly. And also to introduce Mr Squiggle to a new generation."
Want a coin? Then 'hurry up!'
Woolworths General Manager of Programs Rod Evenden said: "We're pleased to help celebrate 60 years of such an iconic character loved by so many of our customers.
"The $2 coins will only be in our registers for a limited time. So, as Blackboard says, 'Hurry up' if you want to get your hands on your own piece of Mr Squiggle memorabilia."
Woolworths says it will stagger the release of the $2 coins over the coming weeks. But the first design, it says, it available right now.