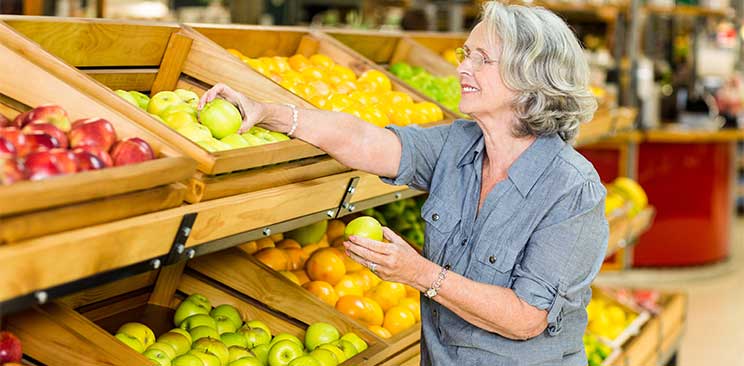 NSW Seniors Card holders are set to save on their weekly shop in-store and online with the launch of an exclusive partnership agreement between Woolworths and the NSW government.
In a first for a retailer, Woolworths will give eligible NSW Seniors Card holders savings on Woolworths eGift cards and midweek online grocery-delivery services, as well as special deals on insurance and mobile products.
Woolworths Chief Customer Transformation Officer Natalie Davis says the retailer understands that seniors spend a large portion of their budgets on grocery shopping and place a high importance on value.
"Small savings can make a real difference," she said. "On average, a senior customer would spend about $90 a week on groceries. As part of this partnership between Woolworths and the NSW government, they could save on average $200 a year, simply by using their NSW Seniors Card to buy WISH eGift cards to pay for their shopping."
A 25 per cent discount off a midweek grocery-delivery saver pass offered as part of the partnership is also expected to be popular with this group, particularly among customers with limited mobility or access to transport.
"At Woolworths, we listen to our customers and adapt our offer to ensure we are meeting their expectations and needs," Ms Davis said.
"Our senior customers told us that many of them were struggling with heavy and bulky grocery items. They also told us they often preferred to shop Tuesdays, Wednesdays and Thursdays. We listened and created a discount on our midweek delivery saver with this group in mind. Senior customers can order their groceries online, we will pick them in-store, deliver them to their homes, and even carry them into their kitchen, if they like."
The offers that NSW Senior Card holders can access include:
Five per cent discount on WISH eGift cards that can be redeemed online or at Woolworths stores, BIG W, BWS, Dan Murphy's and Cellarmasters.
25 per cent off midweek online grocery Delivery Saver Pass (unlimited deliveries for orders over $100).
Three Months Midweek Delivery Saver Pass for only $30, a saving of $10 from the regular $40.
12 Months Midweek Delivery Saver Pass for $59, a saving of $20 from the regular $79.
A $50 gift card with the purchase of a Woolworths Insurance product.
Pre- and post-paid Telco offers.